eCosPro Starter Kit for the Trimble TM3000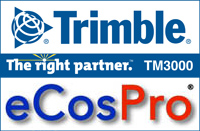 Congratulations on your reciept of the Trimble TM3000 Development Kit. This entitles you to a free copy of eCosCentric's eCosPro Starter Kit. The Starter Kit includes all the necessary tools, runtime code and documentation you need to develop royalty and license fee free embedded applications running on the Trimble TM3000.
Getting Started
To get started you must first register for the eCosPro Starter Kit by completing the online registration form. Your registered email address will then be used to send download instructions and a licensee file. The licensee file is used to unlock and install the downloaded Starter Kit for your use. Installation instructions are provided in the README.html file located in the root directory of the download. If you have any problems registering or downloading contact eCosCentric. Please note that no installation or other support is provided with the Starter Kit. If you require support see the Support and Upgrades section below.
Trimble eCosPro Starter Kit Contents
eCosPro Host Development Tools
Complete industry standard GNU compiler toolset including C/C++ compiler, assembler, linker, and source level debugger
Debugger support for Ronetix PEEDI JTAG and RS232 based connections
Easy to use eCos RTOS graphical configuration tool
Support for Microsoft Windows based development environments
eCosPro Runtime Features
Fully tested and quality assured distribution of the eCos RTOS
Standard eCos HAL, kernel, ISO C and math libraries, memory based file systems, POSIX compatibility layer, and many other runtime packages
Trimble TM3000 board specific support for Power Management, RS232, Watchdog, RTC, I2C, ADC, GPIO, GSM modem and Flash devices
TCP/IP PPP support for TM3000 GSM modem
These are full versions of the tools and RTOS, they have not been restricted in either functionality or execution time. Complete source code is provided for all components.
Support and Upgrades
Your free copy of the eCosPro Starter Kit is provided "as-is" with no warranty or support. For commercial support and additional features, consider upgrading to a full eCosPro Developer's Kit. The Trimble TM3000 eCosPro Developer's Kit upgrade includes the following features:
Support Services
Incident Support: The Incident Support service ensures that any software defects your team identify are dealt with swiftly and effectively. This includes the generation of suitable code patches where appropriate.
Advice Line: The Advice Line service puts your engineers directly in touch with our experts for specialist advice on any eCos related topic. The service provides confidential answers within a guaranteed response period.
Additional Functionality
Eclipse/CDT GUI based eCos application development environment
The C++ Standard Library
Profiling and code coverage tools
Memory allocation analysis and debugging tool
A range of optional middleware is also available including eCosPro-CAN support for the TM3000 CAN device. For information on this and other middleware packages see the eCosPro middleware summary page.
eCosCentric also offer a comprehensive range of services focused on supporting eCosPro based product development. These include training, consultancy, and custom engineering services.
Purchasing and Further Information
To purchase the eCosPro Developer's Kit upgrade, or to request further information about our products or services, please contact us.